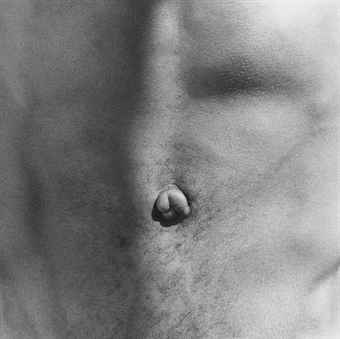 Originally published by The Seen, July 2014.
"…Heva, naked Eve. She had no navel. Gaze. Belly without blemish, bulging big, a buckler of taut vellum, no, whiteheaped corn, orient and immortal, standing from everlasting to everlasting. Wombed in sin darkness I was too, made not begotten. By them, the man with my voice and my eyes and a ghostwoman with ashes on her breath. They clasped and sundered, did the coupler's will." — James Joyce, Ulysses, Episode Three, "Proteus."
Picture a masculine torso, identified primarily by a single ridge running down the center of the photograph; it divides the abdomen between a subtle range of light and dark gray. At its base, the image is punctuated with a delicate field of hair: a threshold pointing just beyond the frame where the pubic area begins. The image would function like an aerial landscape – a desert, maybe – except for a curious belly button blooming in the center, like the bulb of a very fat tulip. Its unusual shape pulls focus, recalling what one tends to forget: a remote point of origin just beyond memory. This torso was once frail, vulnerable, fat, and forming in the dark. This body came from a point of non-being, passing through the hips of its mother into a structured world, whose human society tends to favor binary opposites.
Binaries begin to fall apart with the exhibition's two muses, Patti Smith and 1979 body builder champion Lisa Lyon – women who's forms slip in and out of androgyny, appearing again and again in different arrangements. Sometimes cropped, sometimes whole, always strange, often tender. Mapplethorpe exploits their uncanny ability to challenge, and perhaps even transcend gender expectations – a theme echoed in his own self-portraits as he slips in and out of drag. The infamous Man in a Polyester Suit is no exception either; here too, an isolated phallus grows out of its masculine attire — the suit, like a trunk interrupting its otherwise conventional field; the large format photograph is positioned proudly in the open air of its exhibition hall besides a chorus of similarly drooping orchid photographs.Belly Button, 1986, hangs unobtrusively on a wall of the Grand Palais in Paris amongst over 200 stunning, familiar, and sometimes provocative images taken by Robert Mapplethorpe from 1970 until his death in 1989. The black and white navel might seem the less remarkable example of themes that reappear throughout the rest of the show, where classic studies of ideal male bodies glisten dangerously in high contrast, cropped to emphasize a geometrical, almost anonymous body. Those abstract figures stand juxtaposed by personable celebrity headshots. As in one wall arrangement, Arnold Schwarzenegger, Isabella Rossellini, Grace Jones, and Louis Bourgeois hang among other identifiables, salon style, around a portrait of Warhol, himself framed in a cross, like another point of origin. Additionally, religious crosses appear throughout, as do pentagrams, orchids, and geometric angles. Such themes wrestle under parameters prescribed by the camera —  the dramatic tension of dark and light — attempting to capture a symbolic opposition the artist is at once suspicious of, and beholden to.
In another room, sadly sequestered with warnings of its erotic content, the photograph of a policeman in uniform hangs near a burly, leather-clad man with a ball in his mouth, near a glass of champagne allegedly full of piss, within view of Mapplethorpe posed with a bull whip coming out of his ass, beside a pair of smiling, sadomasochist lovers. In this room the viewer must reconcile kink and humour – with curiosity, generosity, and violence.
Within such a sea of work – the largest retrospective of the artist's work to date  – Belly Button, 1986, is like a tiny parenthetical statement. The press image for Mapplethorpe's show is far more fantastic: Mapplethorpe himself seated, and dissolving in the dark, visibly aged, holding a cane with a skull. This image exists everywhere – hanging on flags outside the Louvre, featured on the sides of newspaper stands, metro stations, and busses. The flagship image shows the artist gaze unblinkingly at his own mortality. It would seem, therefore, that the whole exhibition could portend his illness, and mortality to follow. Yet Belly Button 1986 whispers the same end, while insisting on a beginning.
Omphalos, cited in the title of the exhibition, is the Greek word for naval, but is also a religious stone – a merging point of the masculine and feminine, and a site of religiosity, "…Eve. She had no navel." Distance, mysticism, banality, bewilderment, and even shame – the belly button is a scar left from the traumatic act of becoming. A remainder of lust. When I listened to Patti Smith read the audio version of Just Kids one summer, I never finished the book. I did get to the part where Mapplethorpe is diagnosed with AIDS, and dared to listen beyond that point, each time with trepidation, until I couldn't dare anymore. No doubt the sound of her voice, its proximity to his biography made the reality of his passing more personal, for it captured the range of his person alongside her own. Somehow that belly button keeps him alive, in a way. In a gray space of one who became whilst still becoming.