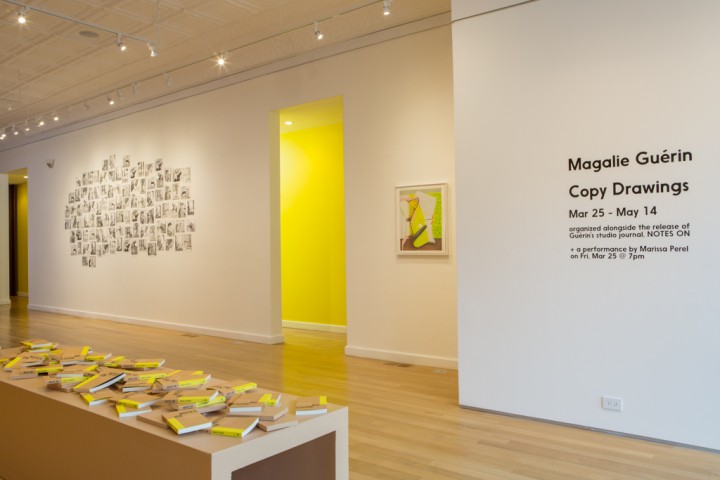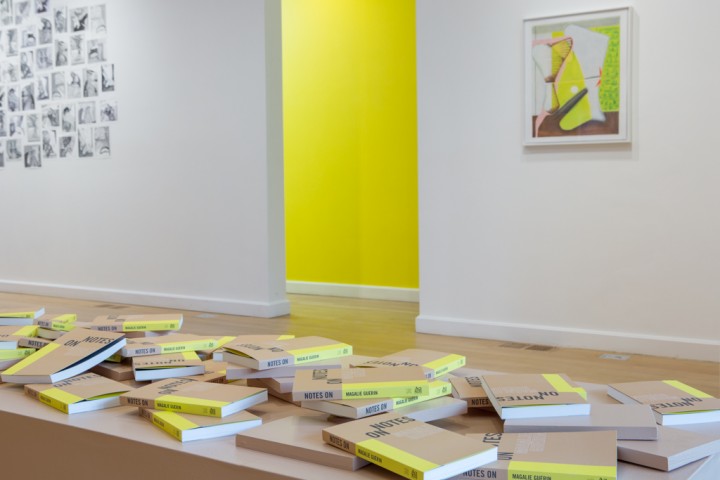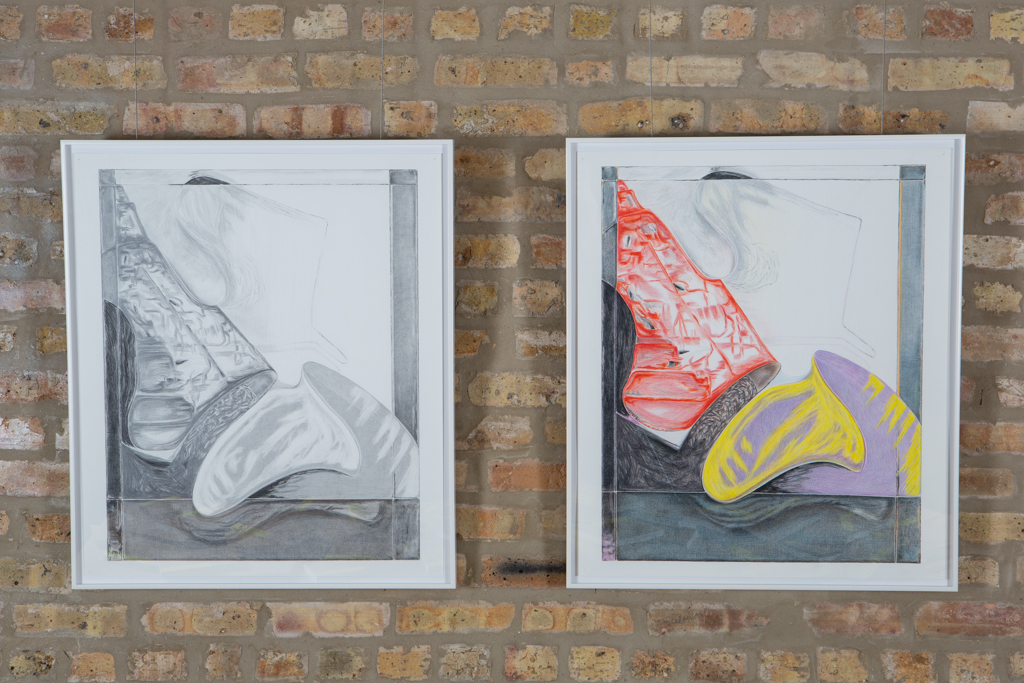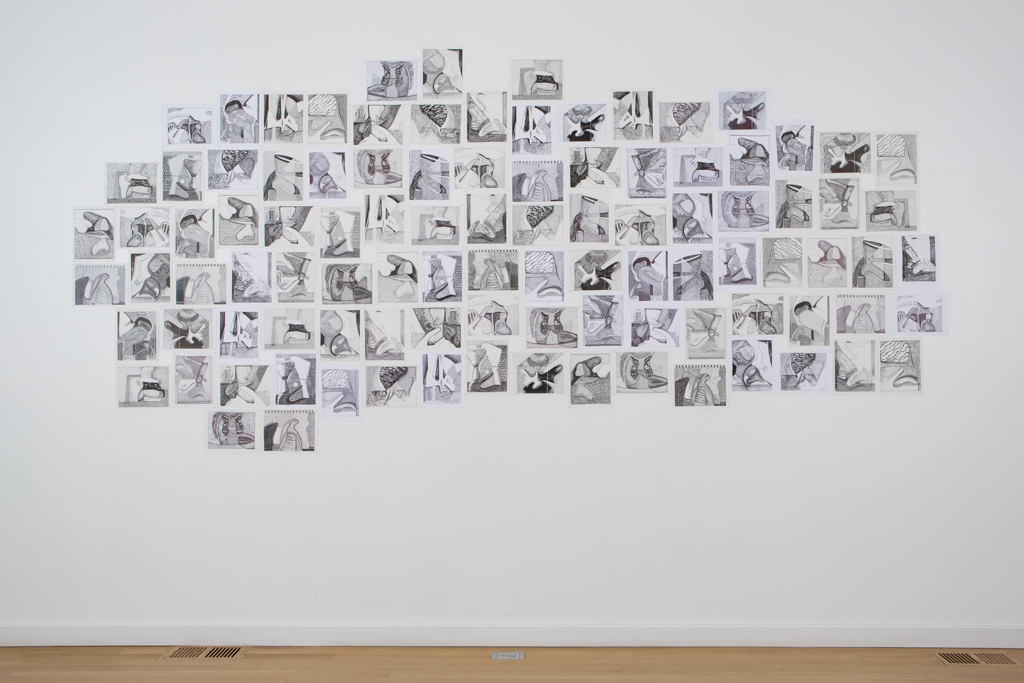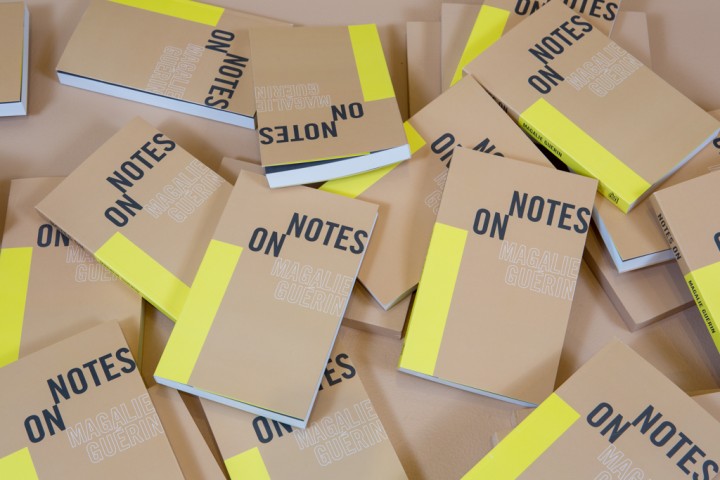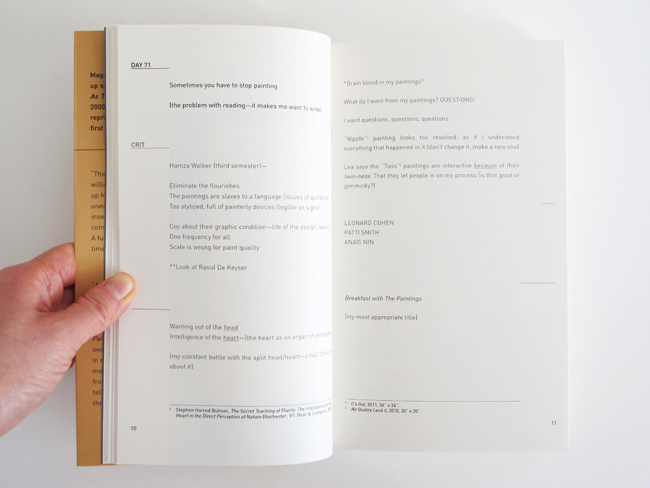 Working with Magalie Guérin as an editor on her a-chronological studio journal, we released the book in her solo exhibition, Copy Drawings, at Sector 2337.
About the show: March 25, 2016 – May 15, 2016 / Sector 2337, Chicago. Copy Drawings was organized in conjunction with the publication of Guérin's first book, NOTES ON (The Green Lantern Press, 2016). With 100+ drawn reproductions of the artist's prior works, Copy Drawings, examines the process by which one reconsiders and recreates the past, posing questions about what is and is not original. For the opening and book launch of Guérin's NOTES ON, NY-based performance artist, Marissa Perel, will perform, "Oh toi, ma persécutée!!" my mother used to say to me. The title of the piece, taken directly from NOTES ON, points to the painful suspension of disbelief an artist experiences when facing "the blank surface—the emptiness" that it "can/will actually become something" (Guérin 19). Reading various excerpts of Guérin's book, Perel will insert her own commentary into the margins, while sampling music and other media referenced in the book (as in, if you like Patti Smith, you should definitely come to see this).
About the book: NOTES ON is an a-chronological studio diary that artist Magalie Guérin's re-transcribed twice by hand and now in print. Through that active facsimile Guérin documents her painting process, mapping at once her creative history and the way that history consistently transforms. Personal, professional, and creative spheres intersect like simultaneous layers in a painting as accumulated entries capture the shifting gray area between self-doubt, self-awareness, and creative breakthrough. A recurring and parallel "character" in this journal is a hat shape—an abstract form that Guérin paints over and over again. Whether anatomical or abstract, the hat shape becomes an anthropomorphic companion as witness/lover/nemesis to Guérin's artistic endeavors. Guérin shows us not only that a room of one's own is useful, but what can happen when it is utilized.
Praise for the book: "How does one become an artist? By turns earnest, exasperated, and exhilarated, Magalie Guérin's NOTES ON provides a fascinating, behind-the-scenes account of one painter's progress. Transcripts of grad school crits, studio visits, and Guérin's own diaries and notebooks are combined to demonstrate how—between an individual's defeats and triumphs—a language of visual art is devised." — Chris Kraus
"The success of Guérin's studio diary lies in her willingness to bare all. Rather than cleaning things up for posterity's sake, she gives the reader an unexpurgated look at the chaotic mix of reflection, insecurity, gossip, exuberance, and doubt that constitute the inner life of the artist at work. A fun, rich book that feels absolutely true to its time and place." — Roger White
"Magalie Guérin applies her artist's receptors to the call and response between art object and the object of art; an ongoing subjective dialogue of creation. Her sense of balance, aspiration, and blurred boundary not only illuminates her own process, but the sensibility that we bring to our perceptions of what art can aspire to, its journey to our bared soul." — Lenny Kaye
"NOTES ON knits together an intricate and impressive network of friends, acquaintances, mentors, and peers whose critical insights converge on painter Magalie Guérin's studio practice. Expanding on the tradition of Richter's The Daily Practice of Painting, its multitude of voices—including Guérin's own—foregrounds discursiveness and its role in shaping contemporary art. But there is also magical thinking afoot. What Guérin disregards from her collection of studio generated language tells us as much about her creative process as the words and ideas she shares with us." — Michelle Grabner
"What would it mean to be open and honest? To reveal the most vulnerable part of one's identity? Artists poke at that activity, but to put a narrative—a shredded, recursive, nonlinear narrative—to the act of self-revelation means meditating on the things that make one uncomfortable, addressing the petty concerns and daily anxieties, weighing the relative value of friends and foe, comparing big, inspiring ideas and irksome minutia, boredom and terror, stupidity and insight, the major and minor triumphs, the leaps and bounds and incremental steps that make up an artist's ecosystem. Magalie Guérin has found abundant material in the tender passage from school to world. She is a painter, but she is also an acute and sensitive observer and a skillful writer, and her book gives shape to the dialogues—both interior and exterior—of a creative person." — John Corbett
About the artists: 
Magalie Guérin is a Montreal-born artist based in Chicago, IL. She received a MFA at The School of The Art Institute of Chicago in 2011. Solo exhibitions include Sector 2337 (Chicago), Lyles & King (New York), The Suburban (Oak Park) and Corbett vs. Dempsey (Chicago), which was a Critics' Picks in Artforum.com. Recent group exhibitions at Nicelle Beauchene (NY), Brand New gallery (Milan), and Rhona Hoffman (Chicago). Guérin is the author of NOTES ON, published by The Green Lantern Press (2016). She teaches Painting & Drawing at College of DuPage, Indiana University Northwest, and at The School of The Art Institute of Chicago. She is represented by Corbett vs. Dempsey.
Marissa Perel is an artist and writer based in New York. Her interdisciplinary work includes performance, installation, criticism and curatorial projects. Perel attended the School of the Art Institute of Chicago (M.F.A 2010) with the artist, Magalie Guerin, though their friendship began after graduating. Through shared values of writing and criticism, and conversations on the parallels of formal structures in choreography and painting, they became supporters of one another's aesthetic interrogations. In Chicago, Perel's work has been shown at the Chicago Cultural Center, Links Hall, the Chicago Humanities Festival, Defibrillator, and LVL3 galleries among others. In New York, her work has been shown through Movement Research at Judson Church, The Chocolate Factory Theater, Danspace Project, Dixon Place, and the former Golden gallery. She is currently in residence at Brooklyn Arts Exchange and the Elizabeth Foundation for the Arts. She is a lecturer through the Low-Residency M.F.A Program at the School of the Art Institute of Chicago.