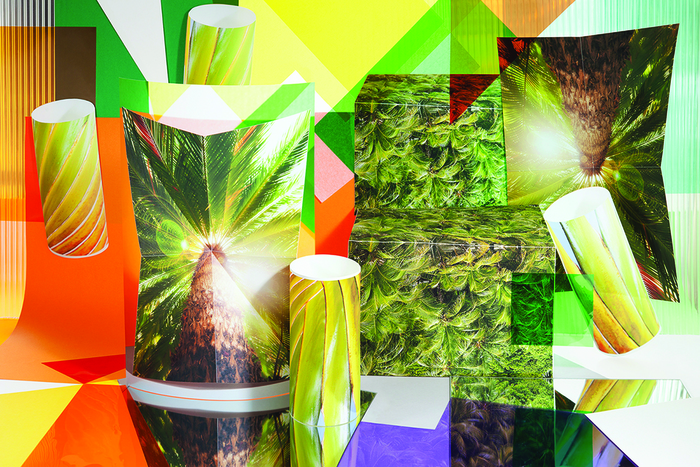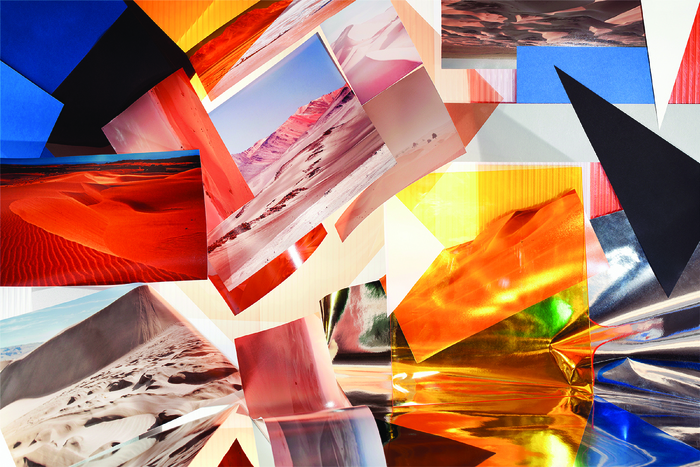 The following article was originally published by Artslant on December 4, 2014.
Anastasia Samoylova does not go out into summer fields when she begins a new work of landscape photography. She goes online, haunting public domain photosites for images of picturesque landscapes: sunsets, waterfalls, forests, oceans, and flowers. Despite the seductive vistas each calendar image portrays, they are so common they become redundant. "I'm almost monumentalizing them in my installations," Samoylova said during a recent (Skyped) studio visit, "otherwise they would just be these little orphans of images."
After printing out her source material at home, Samoylova brings the reproductions to her "studio," a single table on which she stages her collages and a desk with a cutting board; there the artist begins to cut and reconfigure her images, constructing elaborate three-dimensional arrangements that combine, reflect, and distort fragments of public domain printouts with gels, reflective surfaces, and semi-transparent corrugated sheets. The result is a slick, kaleidoscopic environment that revels in the process of its own staging—to such an extent that Samoylova even makes stop animation films of her process. Finally, she photographs the complete tableau, flattening her installation back into two-dimensions. Like the distorted space within each print, the production process is a constant expansion and contraction during which images slip in and out of three dimensions.
The colors in the final prints are saturated and bright; the patterns she incorporates similarly appear so regular that they read like Photoshop tools. The white backdrop feels too bright—everything feels artificial. And yet her interventions occur entirely in real time and space. Rather it's the source material that's digital: images of Nature that are as doctored as the celebrities in magazines. Samoylova, by contrast, insists on working with her hands, even going as far as refusing post-production edits. By printing out the images at home—translating the originally expansive outdoor space from its digital jpg form into a domestically proportioned object—Samoylova brings the images into a material space with practical limitations. Consequently, the final print shows evidence of dust and small imperfections socialized habit would remove. "You start seeing blemishes," Samoylova said, "The studio shows through." In that respect, her photographs are particularly honest. Unlike early landscape photographs that presume to give you the "real" Yosemite experience, Samoylova exposes the contrivance implicit in photographic works, and in so doing emphasizes the curious ideologies embedded beneath our generic desire to frame and capture the environment.
Before getting her MFA, the Russian born artist originally studied environmental design with Bauhaus and Dadaist roots—roots that no doubt contribute to her appetite not only for the strangeness of social media (she was one of the first Flickr users in 2004), but also the game of creative constraints. Add to that the two years she spent working as a designer for Armani, and the origins of her aesthetic begin to emerge.
The nature Samoylova portrays is not natural—it never was natural. Beaches presents a series of boxes and flat planes, hanging together in defiance of gravitational forces. Oceanic tides draw in and pull back from one another, refracting as though in a hall of mirrors. It's impossible to discern the scale of the composition; skylines appear at cross-purposes. It's no wonder the experience of space seems so strange when the images themselves are facsimiles of facsimiles of facsimiles.
A pervasive desire haunts Samoylova's tableaux. "Pictures are a manifestation of our search for the sublime," she told me through the screen of my laptop. And like its historical precedents, this "sublime" is skewed. Beaches plays with the idea of the beach, how desirous it is because of what it signifies: the luxury of vacation, the implication of success, the appeal of relaxation as an untroubled psychological state. When one gets to the beach it must be photographed and shared, not only to prove that such places exist, but perhaps most of all to prove that one has arrived there.
This essay was first published in the ArtSlant Prize 2014 Catalogue, on the occasion of the ArtSlant Prize 2014 exhibition at Aqua Art Miami, from Thursday, December 4—Sunday, December 7, 2014. Anastasia Samoylova is the ArtSlant Prize 2014 3rd Place winner. Other ArtSlant Prize catalogue essays: Edra Soto, Adam Douglas Thompson, Oren Pinhassi
(All images: Anastasia Samoylova, The ArtSlant Prize Exhibiton, 2014; Courtesy of the artist and ArtSlant)