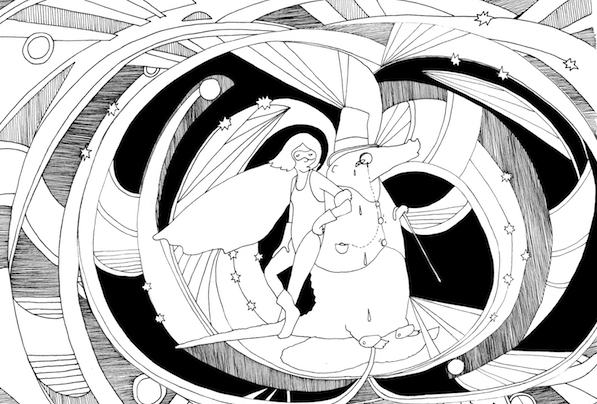 My first graphic novel, The Chronicles of Fortune was published by Radiator Comics in 2017. You can pick up a copy here.
About the book: Originally published as a series of minicomics, The Chronicles of Fortune is a quirky and idiosyncratic adventure of Fortuna, the greatest superhero who could do anything to improve the world, but is tragically stricken with ennui.
The Chronicles of Fortune follows the lives of Fortuna, and her alter-ego, Edith-May as they learn to cope with loss and recruit a team of friends along the way! Discover a temperamental stove, a nosy mountain, a goofy crocodile, a loner moth, and a singing goldfish as they lead Fortuna on her greatest adventure! At once charming, sad, funny, poignant, and bizarre, The Chronicles of Fortune keeps one foot in mundane reality.
The Chronicles of Fortune was also discussed in Episode 595: of Bad at Sports. It madeBill Kartalopoulos' list of Notable Comics from 2017 and was nominated for a DiNKy Award.
Press about the book: "In the guise of a fantastical hero comedy, The Chronicles of Fortune is a story about succumbing to and triumphing over loss and grief in all its forms, and learning how to grapple with the role of death in life." -Megan N Liberty, Hyperallergic [Full Review]
"Fortuna's story unfolds with a very spare cartooning style that finds a counterpoint with the ideas behind the humor. Picard is eclectic and whimsical in the ways she brings in laughs." -John Seven, The Comics Beat [Full Review]
"For what it's worth, I've read a lot of comics by a lot of different people about a lot of different subjects over the 20+ years I've been enjoying the small press comics world, and I've never read anything quite like this."-Kevin Bramer, Optical Sloth [Full Review]
"…each facet of the book's publication illustrates how, when publishers, distributors, and creators truly invest in a work, the result will be wonderful."-Alenka Figa, Women Write About Comics [Full Review]
"You should buy The Chronicles of Fortune, read it, then share it with someone you love."
-Mairead Case, Entropy [Full Review/Interview]
"There are sharp-cornered surprises within the sketches, delicate intricacies similar to Unica Zürn's creature drawings." -Annette LePique, Chicago Artist Writers [Full Review]
" Picard layers depth, even as the drawings themselves are single, thin lines that don't even try to be exacting in their depictions…"-Rob McMonigal, Panel Patter [Full Review]
One of Anne K. Yoder's favorite books of 2017
Praise for the book: "Alternately sweet, funny, and heartbreaking, The Chronicles of Fortune is a charming, lyrical meditation on fragile connections. Picard crafts tidy, seemingly unrelated vignettes which slowly knit themselves together into a touching and thoughtful finish." -Sarah Becan [I Think You're Sauceome / The Complete Ouija Interviews]
"At first seeming like a dreamlike biographical comic with a cool meditative art zine aesthetic, The Chronicles of Fortune slowly reveals a sweet blend of deceptively simple narrative devices and complex philosophical ideas while keeping a fun vibe through the entire book ride. You won't regret injecting this book into your soul." -Farel Dalrymple [Pop Gun War / The Wrenchies]
"I've never read a more whimsical meditation on death and loss. Picard weaves childlike escapism with playful symbolism in a series of melancholy vignettes that somehow overflow with love, humor, and hope." -Ezra Claytan Daniels [Upgrade Soul]
"The unlikely adventures of an even less likely superhero, The Chronicles of Fortune unspools through history and happenstance gathering into its narrative orbit a ragtag crew of sidekicks and gadflies. Picard draws with the angles and tangles of a witty wire sculpture, and writes along an equally idiosyncratic path through frustration, friendship and loss." -Edie Fake, [Gaylord Phoenix / Memory Palaces]
"Have you ever visualized the speech of a moth? Coco Picard has, and rendered it with her unerring expressive line, one many unembellished details in the universe of Chronicles of Fortune. Edith-May, who carries her etiolated super-hero alter-ego Fortuna like a guilty secret, wanders through territories historical, biological, imaginary, enchanted, and ordinary all at once, as she sets about rebuilding her life after the trauma that transformed her. Picard illuminates secret spaces and exquisitely captures the uncharted emotional terrains of loss experienced as a young adult. Seeing these fragile landscapes rather than defining them Chroniclesjourneys into odd and alluring worlds with tones and compositions that freshly glimpse grief and resilience. The Chronicles of Fortune,an illuminating achievement, ushers the comic form into the 21st century in all its post-human exuberance and uncertainty." -Lin Hixon and Matthew Goulish [Every house has a door]