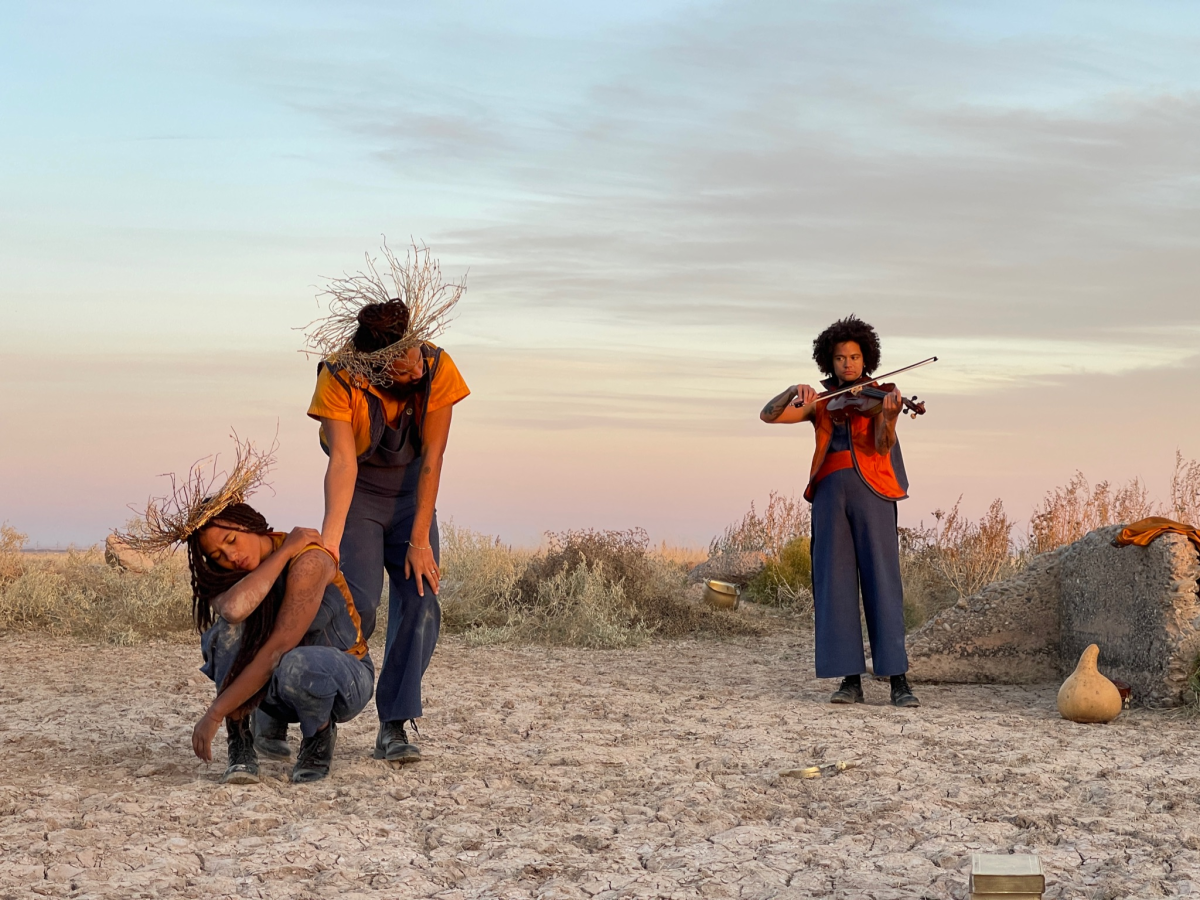 The following article was originally published by Hyperallergic in March, 2022.
LAS CRUCES, NM — Freedom Colonies and all-Black towns were established throughout the United States following the Emancipation Proclamation. The first instance of an all-Black town in New Mexico, named Blackdom, was founded around 1903 and stood 20 miles outside the city of Roswell. By 1918, it had a town square, a post office, church, schoolhouse, general store, and annual Juneteenth celebration. The New Mexico State University Museum attributes Blackdom's eventual demise "to racial tensions, lack of access to water, and drought." Disastrous crop prices following World War I added stress, and residents formed the Blackdom Oil Company in 1920, leasing over 4,200 acres to the National Exploration Company. The oil fields weren't commercially viable, however, and the Blackdom project ended in the 1930s. Just two cornerstones remain, yet the community was extraordinary. "It was [populated by] educators and Buffalo soldiers, people who had travelled the land, artisans, farmers who were educated. The first Black lawyer in New Mexico came from Blackdom," said the Taos-based artist Nikesha Breeze in a recent phone interview.
Breeze is one artist behind Stages of Tectonic Blackness, a serial performance memorializing Blackdom, in collaboration with Albuquerque-based artists Miles Tokunow and Lazarus Nance Letcher, and cinematographer MK. Iterations of this durational performance have so far taken place at Albuquerque's Pedra Lisa trail heads (Tiwa Territory), the original Blackdom site, Form and Concept Gallery in Santa Fe, and, most recently, 516 Arts in Albuquerque. Documentation from the Santa Fe and Blackdom performances is currently on view in Breeze's solo exhibition, Four Sites of Return: Ritual, Remembrance, Reparation, and Reclamation at the New Mexico State University Museum.
Blackdom's founder, Francis Marion Boyer, is said to have walked from Georgia to New Mexico to found a community beyond sharecropping and racism. Blackdom scholar Dr. Timothy E. Nelson recalls Boyer's background as a Black Freemason, Buffalo Soldier, and Black minister, trained — like his wife and educator, Ella Louise — at Morehouse College. "It's a beautiful myth," Nelson says in a PBS interview. "It's an achievement, to walk 2,000 miles. But to me, [Boyer] was a superhero because of his intellectual capacity. He was able to deal with Southeastern New Mexico which was a stronghold of the Confederacy … and not just survive but thrive and build a town along with the other families."
Breeze began developing Stages of Tectonic Blackness after discovering their direct lineage to Blackdom through an African Ancestry test. Performance became a way to explore that history, and collaborative research was essential to developing the work. Montokono — a dancer, community organizer, and social activist — shared readings around ecofeminism and Black archaeology by Dionne Brand, Saidiya Hartman, Françoise Vergès, Moor Mother, and Rasheedah Phillips, among others. (Selected recordings are available here.) Letcher, a viola player, composer, transactivist, and academic, transcribed those texts into musical compositions to play during the performance. Breeze developed props and costumes ("each costume is designed in response to the land and environment where we performed"). MK's documentation frames each performance with a single camera, one lens, and natural light in real time. "MK runs back and forth [between performers], an equal Black body on the ground — they're one eye, one perspective. So much is missed. That's part of the work too."
In video documentation of Stages of Tectonic Blackness, screened on a large two-channel installation at NMSU, figures move through the frame slowly, deliberately. Hands run over the earth and sometimes dig, burying small scrolls. Countering the dry, earth tones of the Blackdom performance, a second video installation, "Stages of Tectonic Blackness: Return/Re:member" (2020), focuses on bathing rituals, suggesting resurrection. "The act of washing and touching is one of the simplest acts of calling the body back and reclaiming it for itself," Breeze said. "That idea extrapolated out to all the Black concepts, ideas, contributions, histories — dismembered stories recalled for collective consciousness."
Performers draw this utopic and self-directed past into the present. "In the work we are doing, the past is present. It's absolutely here," Breeze said. "How can we work into futures by shifting pasts?"
Nikesha Breeze – Four Sites of Return: Ritual, Remembrance, Reparation & Reclamation continues at the University Art Museum, Contemporary Gallery and Bunny Conlon Modern and Contemporary Art Gallery (1308 E University Avenue, Las Cruces, NM) through March 5. Another iteration of Stages of Tectonic Blackness will take place on Friday, March 4 at 6:30pm at the University Art Museum in Las Cruces, NM.