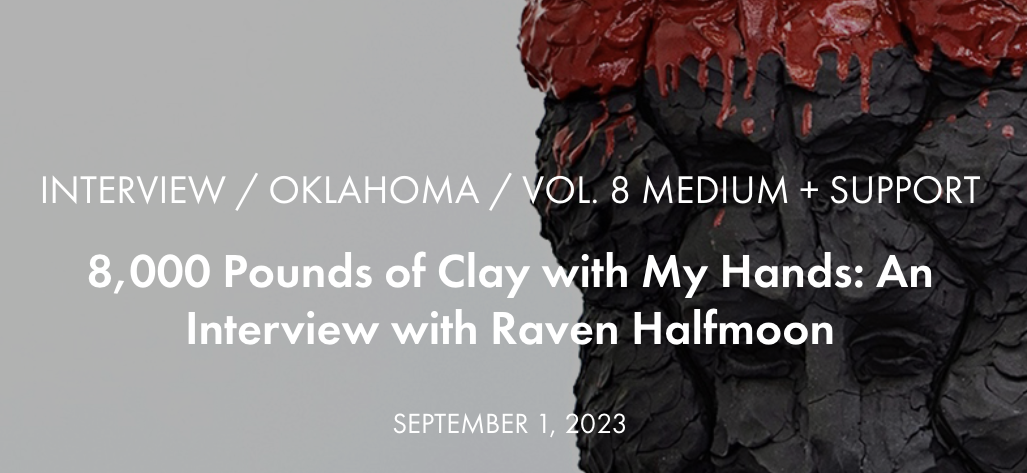 The following interview was published by Southwest Contemporary in September 2023.
Raven Halfmoon (Caddo) is known for making monumental clay figures that build on the longstanding tradition of Caddo pottery while drawing on a suite of other influences like fashion, graffiti, or color theory. The result is often embodied in large-scale clay figures, sometimes human, often with many faces, that torque the hierarchical expectations of a stable canon. In the following interview, Halfmoon discusses her relationship to the medium of clay while preparing a major joint exhibition, Flags of our Mothers, which opens this summer at the Aldrich Contemporary Art Museum in Ridgefield, Connecticut, and travels to the Bemis Center for Contemporary Art in Omaha, Nebraska, in 2024.
What is it like packing, shipping, and unpacking your sculptures around the country?
When you start working at this scale and moving these large ceramic works across the country, you have to think about how you are going to build and move the piece before you even start. First you order clay. I went through about 8,000 pounds of clay with my hands. You have to think about the device or pallet that you're going to build on to hold a sculpture of that size, because once you start building it, you can't move it. It's heavy and fragile. Then that thing has to have wheels to slide into a kiln. And then it fires in the kiln for two to three weeks, minimum. Once it comes back out, you have to get tow straps or a company and a crane or a forklift, and then it has to be strapped up, lifted out safely, and either put on a pallet or the bottom of a crate to get shipped across the country. Luckily, once these pieces are fired, they are pretty easy to move around. It's always nerve-wracking watching my pieces getting uncrated, but I haven't had any issues yet.
Can you talk about how the Caddo lineage of clay informs your practice?
Clay as a medium was an important part of Caddo traditions for thousands of years, so when I was in school, studying art at the Archeological Survey at the University of Arkansas, holding all these clay pots my ancestors made, I knew that I wanted to continue this tradition of using clay. But I wanted to make things that were contemporary, to make pieces that spoke true to my voice and my experience as a woman, as a Native American living in the 21st century.
Read the full interview here.